In the last release we have introduced a new post content type, i.e. Slideshow
What is this option about?
Androapp provides you the ability to load post detail page content in different ways, like pre processed, post processed, load as url already, with this new option, when a user clicks on feed image, post's images will directly open as a slide show, like below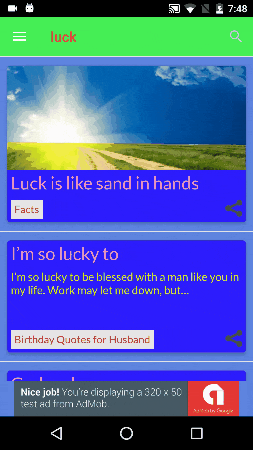 How to turn on this feature?
login to your wordpress admin dashboard
go to Androapp->Configure tab
Scroll down to Post Content Type section and select slide show
Select Failover post content type – if there are some images in the post than it will open the slideshow, post content will not be visible, if there are no images, than it will fail back to Failover post content type
Note:
This feature is available from App version 9.00 onwards – so if you are on the older version, you need to publish a new apk to google play store, also you should give enough time for new version to distribute among your existing users before you enable slideshow.